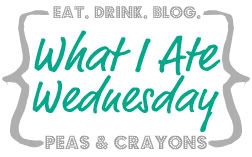 Let's play a game – which of these things is not like the others?
8 am: blueberries, protein, almond milk, banana
10:30 am: carrot juice
12:15 pm: blackberries, strawberries, apple juice, protein
2:45 pm: TJ's Carrot Ginger soup (unpictured)
5:30 pm: Veggie burger and side salad at The Porch
If you guessed the burger, you're right.
As a dietitian, I preach whole foods, balance, and food as fuel rather than restriction, fad dietiting, and hyped up "cleanses".  So why did I consume smoothies and soup for 2 days straight?
A few years ago I did a 6 Day Detox plan that included only smoothies, carrot juice, and carrot soup.  It did help me drop a few pounds quickly and I don't remember it being that challenging.  The plan also calls for "cleansing" basically using fiber supplements and diuretics, which I was not comfortable with and never followed at all.
This Sunday I found the plan during our move and calculated the calories to a little under 1200 – not that far off from the calorie level I recommend for some of my clients who are trying to lose weight.
So Sunday night I went to Trader Joe's and stocked up on the components of the smoothies and bought some soup.  I followed the plan on Monday to a "T" and felt absolutely fine.  Since I haven't been able to exercise due to my medical issues, I thought reduced calories were the way to go to get me to feel better before our upcoming Miami trip.  I've been indulging in lots of prepared/conveinence foods with our lack-of-a-kitchen situation, including leftover Easter candy and this fantatic popcorn.
Yesterday I had the morning smoothie, carrot juice, lunch time smoothie, and then my stomach started growling.  Less than an hour after the smoothie, 2 hours before I was "allowed" to have 80 calories worth of soup.  Feeling hungry is no fun.
I went to the doctor's to have a test done and my husband came with me.  By the time that ordeal was over I was absolutely starving and I knew that a smoothie for dinner was not going to help my mood.  I decided my body knew I needed real food, something solid to chew on and digest.  So I thought, "What am I doing?  If I need to eat, I should just EAT."
So we did.  We tried out a new-to-us restaurant [review to come], had a wonderful time, and it took my mind off everything else that's going on.  I was snapped back to the reality of making good food choices more often than not-so-good ones, enjoying smoothies because I WANT to, not because they're part of a "plan", and leaving it up to my body to let me know when I'm physically hungry and need to eat.
So that's that.
Happy hump day!