Happy #WIAW – join the party with Jenn @ Peas and Crayons!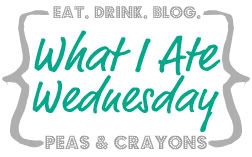 Breakfast: 
Dark roast K-Cup with sugar free hazelnut syrup, thanks to
Aunt J!
<3
And a tempeh, egg white, nootch + avocado sandwich:
Not pretty, but I wanted something savory and warm after so much Easter candy over the past few days.
Lunch: This was a weird day, and I broke lunch up into two parts – a big bowl of sautéed kale with roasted garlic hummus and feta:
Some guacahummus I made for a work project (unpictured), and a sweet component – raspberries, strawberries, and vanilla chocolate chunk Cho:
Dinner: Leftovers from a spicy roasted tomato and goat cheese pasta I made over the weekend – still need to share this recipe with you all!  I added in some spinach to bulk it up a bit.
Workout: 2 mile walk with Lexi, then 75 amazing minutes of hot yoga at my favorite studio with my favorite instructor.  A second instructor stuck around after her class to help with assists, and I felt like I nailed some pretty strong poses last night.  Always good for the mind and body!
Unpictured snacks – mini Reese's eggs and dark chocolate covered cranberries from Sarris – these Easter baskets won't last too long!