Holiday hodge-podge version of WIAW, thanks to Jenn – feel better, girlie!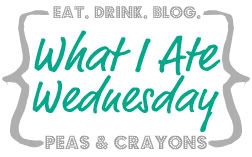 Early Christmas gift arrived on December 23rd!
A case of Chobani on my doorstep!   Thanks, Chobani!
The night before Christmas Eve, my family and I dined at one of my Dad's favorite restaurants, Ciao 2, a family owned Italian joint.  Typically their meatless dishes are too heavy for me, but these portobellas stuffed with crabmeat, spinach, and tomato basil sauce were incredible.
Still a little heavy on the oil, but still delicious.
Christmas Eve was spent with my husband's family, as it is their tradition to have a large meal, exchange gifts, and go to Church, then relax on Christmas day.
His mother made a Polish feast of 12 different dishes, about 6 of which were fish – so I could try everything!  This punch was tastier than it looked – soaked with plums, dates, and apricots, with tons of added sugar and cloves.
This pickled herring is one of my husband's favorite holiday foods, but the texture was too chewy for me.
My MIL's table – before she added about 7 more dishes of food!
My dad always makes cinnamon rolls, eggs benedict, bacon, sausage, quiche, and eggs on Christmas morning.  I had a florentine version with veggie bacon (also a sliver of the 3 cheese quiche – so good)!
Christmas dinner at my aunt's was (unpictured) salmon (beef and ham for everyone else), cheesey potatoes, and green beans.
The rest of the holiday was spent munching on all the treats I mentioned Friday, plus some basic peanut butter blossoms…
Puppy chow (white chocolate, thanks to Averie), by popular demand…
Angela's Nutcracker Cookies (rolled in powdered sugar, tea-cake style)…
Oreo Cheesecake truffles…
Peanut butter pretzel truffles…
And another batch of the almost too sweet chex mix, made it all its buttery glory.
I hope you all had a wonderful holiday!
What was your favorite holiday treat?
I think I have to go with the nutcracker cookies!