All fibre sectors should defend the claims they are making
The importance of traceability of fibres has been gaining momentum, with pressure coming in from all quarters. Herein, FibreTrace delivers end-to-end traceability and real-time results and data, housed on a platform that can be accessed securely via any device connected to the internet. The company's mission is to ensure that every member of the textiles supply chain has the ability to take direct accountability to reduce the environmental impact of the global industry. Chief executive Shannon Mercer tells Subir Ghosh that in doing so, they aim to ultimately provide the consumer the opportunity to choose a transparent and sustainable supply chain to follow and purchase from.
Right at the core of the textiles-fashion industry is the fibre. How do you foresee industry players accepting the fact that fibres need to have a traceability component? What is it that you have noticed so far?
Since the pandemic, we've seen a rising demand from consumers to know the origins of their products and understand how they are made. The recent crisis in Xinjiang highlighted that a lot of brands cannot trace their products back to its original source and claim with 100 per cent certainty what fibres their products are made from.
This period has been an awakening for the global textiles industry that we need to address long-standing problems including the ability for brands to have true custody of supply chain, complete transparency, understanding the impact of raw fibre production on emissions, and ensuring that the claims made on environmental targets and individual products can be authenticated with tangible evidence. As such we are seeing a positive response to FibreTrace as we introduce the product from farm through to brand.
From which segment do you see more acceptance brands or producers? Can you share any anecdote regarding any difference in acceptance (assuming there is indeed a difference)?
We find that brands are the drivers due to their need to improve transparency in their supply chain and make continuous strides towards improvement. At a farm level, producers are more open to adoption of the technology because it ensures they are being rewarded for committing to sustainable and innovative solutions.
At the end of the day, brands must be willing to pay a small premium so that the raw fibre producers can continually invest into sustainable production technology and techniques. The same way that sustainable viscose and recycled polyester takes a premium, so should carbon positive cotton or wool for example.
Do you think the concept of fibre traceability is something that is more confined to industry players only? Or, do you think ordinary people (as in end-consumers) too have been or will soon start demanding that the fibres their clothes are made of be 100 per cent traceable?
Consumers have played a large role in demanding that brands act with more transparency in telling them where their products come from, what they are made of and who made them. This is largely thanks to campaigns like #whomademyclothes and Fashion Revolution's annual transparency index reports that have encouraged consumers to be enablers for change.
A survey conducted by McKinsey in April 2020 across more than 2,000 UK and German consumers showed an increased desire for greater sustainability with 57 per cent already making significant changes to their lifestyles to lessen their environmental impact.?
Brands are really good at marketing their transparency to consumers, but the key is for consumers to learn that true transparency, from birth of fibre through to re-use and recycle, is to connect a physical tracer that consumers can engage with to see the journey. FibreTrace offers a consumer engagement platform which most brands we work with are excited to take on.
In which fibre segment (as in cotton vs polyester vs viscose, etc) do you see the maximum proactive stance as far as traceability is concerned? Could you please elaborate?
Traceability has been incredibly important across all of these fibres and industry bodies within these sectors have been pretty outspoken about achieving greater transparency to improve more sustainable solutions.
From our industry experience with cotton, we have seen a constant desire from the cotton industry to have greater transparency around this fibre to combat all the negative and misguided information that is currently out there. The impact and production of cotton is so reliant on the context it was grown such as: its geographical location, irrigation system, water pollution and recycling practices, that its impact cannot be measured or defined by general figures. For carbon positive cotton farmers, physical traceability also helps ensure that their fibre hasn't been compromised along the supply chain and they are being rewarded for their efforts.
All fibre sectors that promote sustainable fibres have a need to differentiate themselves through traceability to defend the claims they are making, and ensure authenticity of the fibre in the end garment the consumer purchases.
There have been widespread calls for a green recovery of the fashion industry from the destruction wrought by the covid-19 pandemic. In some ways, this recovery needs to start from the fibre stage itself. What have you noticed in fibre development/ innovation in the last one year?
We have seen significant innovation being made in the recycled sector, in particular, end of life and re-use technologies. Technologies like Saitex's Stelapop that takes denim offcuts and converts them into furniture is an example of the industry thinking more about a fibre's second life.
Cotton has been under pressure because of anthropogenic activities, climate change, etc. Polyester is in the dock for oceanic pollution as well as being a fossil fuel fibre. Do you see the world breaking away from these two any time soon? Are we going to see new fibres that are sustainable/ circular as well as affordable?
Whilst controversial, cotton is an essential fibre that makes up a third of global fibre used worldwide and is considered the most versatile fibre across all textiles. The cotton industry supports the livelihoods of an estimated 50 million families globally, many of which are smallholder farmers. Moving away from it in the short term is not a solution. In fact, farms like Good Earth Cotton are pioneering the way for carbon positive cotton helping fight climate change.
Polyester is affordable, hence its popularity in fast fashion. To expect the global textiles industry to stop sourcing these two fibres is simply not a constructive or realistic answer.
Rather, the industry needs to collectively implement more sustainable alternatives—like carbon-positive cotton and rPET—and work towards ways that allow these fibres to enter the circular economy.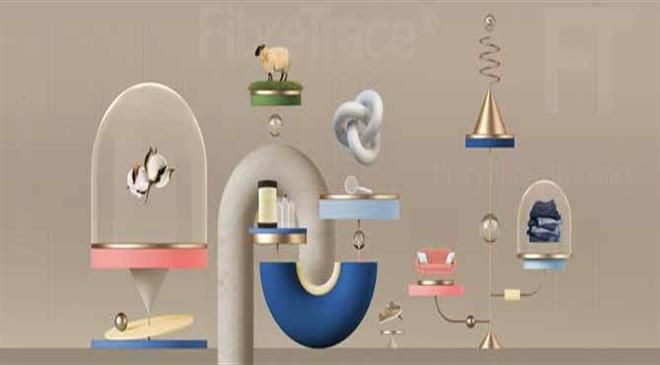 In which areas of fibre development/innovation do you foresee the maximum activity: sustainability/ circularity, performance, longevity, affordability?
We believe circularity will be the main focus of the industry into the future and innovation will drive this. The industry has long held the adage race to the bottom putting affordability as the highest metric for consumers. Of course affordability, performance and longevity will always be key drivers but as consumers continue to understand their impact on the planet through over-consumption, it will influence their purchasing habits to the point where they will choose brands which truly innovate and reduce their impact as well. Fibre traceability will be key to ensuring this can be measured.