Tide through crisis by focusing on core strengths
Surat-based Shahlon Silk Industries has grown from a small textile unit to a fully integrated enterprise engaged in manufacture and export of quality fabrics and synthetic textile yarns. In an interview with Paulami Chatterjee, chairman Dhirubhai Shah talks how his company is trying to tide over the Covid-19 crisis by focusing on its core strengths and understanding of customer requirements.
What is the story behind the formation of Shahlon Silk Industries? Who are the promoters/founders?
Shahlon Silk Industries Ltd (SSIL), leading fashion to technical fabric supplier to domestic and leading fashion brands across the world, was established in 1984.? The company has grown from a small textile unit to a fully integrated textile enterprise over the last 30 years. Founded by brothers Dhirubhai Shah, Arvind Shah and Nitin Shah with vast experience in textiles business, three second generation children joined the family business in 1990, 1995 and 2015 respectively. With the unwavering vision to be a fully integrated textile enterprise, and support from workforce of more than 1800 employees, the company has expanded from yarn marketing agency to texturising, twisting, sizing, yarn dyeing, weaving, finish fabrics and industrial infrastructure fabric player. It is now engaged in manufacturing and exporting of quality fabrics and synthetic textile yarns.
What was the turnaround year for the brand? What is its growth story?
The company went public in 1994 and raised ?3 crore. In the initial phase of business during 1984-2000, it operated with just 12 conventional power looms and 282 water-jet looms. It is the marketing agent of Reliance Industries (is it still doing that)? and its association with Reliance Industries for synthetic yarn during the period was one of the key milestones.
During 2001-10, the company expanded production capacity with installation of 100 waterjet looms and incorporated wind energy for the production processes. Post 2011, it has seen tremendous growth with commencement of yarn dyeing and expanded further its capacities.
Where are your manufacturing units based at? What kind of infrastructure do they have?
SSIL has three state of art manufacturing units in Gujarat located at Kim, Karanj, and Kosamba. At Shahlon, we continuously invest in state-of-the-art technology and equipment across all our areas of operations to adopt globally accepted manufacturing technology, delivering speed, versatility and most importantly, quality. Product quality is of supreme importance and we ensure exceptional quality control across the entire manufacturing process through extensive testing methods, to adhere to all quality specifications.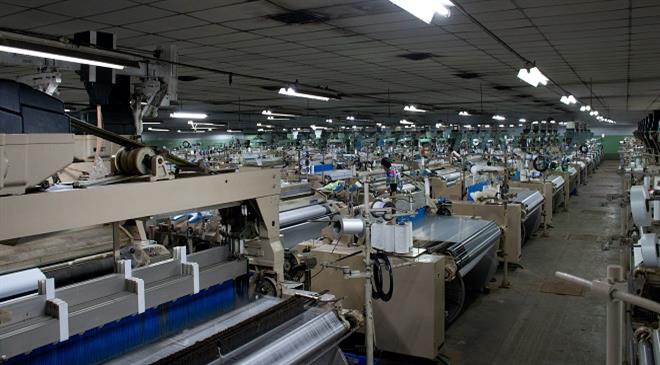 What is the woven fabric manufacturing capacity at your units?
The company has overall woven fabric manufacturing capacity of 42 million metre per annum.
In yarns segment, the company is producing polyester yarn from 30 to 300 denier having presence across all types of textured yarns, carpet yarns, dyed yarns and sized yarns.
In fabric segment, we have presence across different categories like solid dyed, jacquard & yarn-dyed, printed, sustainable and greige for fashion and furnishings products.
By what percentage has the production decreased since Covid? When are you expecting to reach pre-Covid production levels?
The company has reached 75 per cent of pre-Covid level capacity and is expecting to come back to pre-Covid levels by end of this month.
Which are your major export and import markets?
Shahlon exports fabric to Sri Lanka, South East Asia, Myanmar, and Cambodia. With presence across 15 countries, exports contribute to about 14 per cent of its revenues. However, due to external constraints and supply chain disturbances, we have not received any export order. We expect operations to normalise when the situation across the major markets improve. We are ready for global challenges as our product portfolio is competitive enough with respect to foreign shores like Turkey, Israel, Morocco, Thailand and other yarn consuming countries where the company entered in recent past.