Recovery begins when you decide to move forward
Founded with 6,000 spindles in 1965, Vardhman Group today is the largest vertically integrated textile manufacturer in India, with a turnover of more than $1.1 billion a year. Headquartered in Ludhiana in the Malwa region of Punjab, an area commonly renowned as the 'Manchester of India', it has had its own share of battles as Covid struck one and all. In an interview with Fibre2Fashion, Suchita Oswal Jain, VC & JMD of Vardhman Textiles, speaks about the bigger challenge the Indian textile industry faced when the pandemic raised its ugly head in March, and how in spite of that it has worked to stay as stable as it could.
How has the worldwide lockdown impacted the textile & apparel industry? What are the immediate concerns and key takeaways?
Since Covid has remained with us (in India) since March 2020 and still persists, it is not possible to say it had a completely negative or positive impact. There were phases of pandemic and also its impact. For instance, in the initial days i.e during the beginning of lockdown, everything came to a standstill, the factories were shut, the status of orders was not clear and economic growth stopped for a while. Closure of all the major stores worldwide led to loss of sale in retail stores which in turn affected everyone in the supply chain including manufacturers and suppliers.?
Then with lockdown being lifted, life as also economy started limping back.? We were lucky that many of our employees reside within the factory premises in our residential colonies, so we could re-initiate the manufacturing within a month of lockdown. Thereafter, the engine of growth started churning again. At present there are sections of industry which are doing well. Production wise the situation has improved but it will take some time for improvement in terms of consumption.?
Businesses do face challenges and Covid is also one such challenge the industry is adjusting to. With physical meetings at bay, this has revolutionised the pace of adapting to digitalisation in textile manufacturing industry. So, the major takeaway it offers is - grow your roots strong enough to stand tall in the winds of challenges and adapt with agility; speed is of essence. If there is a problem, there has to be a solution. Keep your eyes glued to the bright side of the tunnel and you will pass through the darkness without much bother.?
Any comparison on how differently the Indian textile industry got affected compared to the world?
The impact on small, medium and large-scale industry is different within India, so if we are comparing Indian textile industry with rest of the world; there certainly will be differences. Since larger industries invest in resources to plan better and manage crisis effectively, they worked their way more successfully in staying stable during the challenging times. There was a dip in demand and market, thus did the industry, but we Indians have an appreciable quality - we save for the rainy day.?
However, if we see technically, Indian textiles is largely dependent on exports and it won't be wrong to say that spring/summer (retail) is the major textile product for Indian manufacturers. The period of March to September is the principal retail season for Indian export products. The pandemic started in the month of March and there was a restriction on export for a substantial period; things did improve gradually. As compared to countries that produce products primarily for winter season, the challenge perhaps was bigger for the Indian textile industry but we are competitive and continuously improving. It won't be an exaggeration to say, in some sections, we have already come at par with our set targets.
How critical would be the reduction of trained manpower on fronts like manufacturing, warehousing, supply chain etc for the businesses?
Skilled manpower is the backbone of the manufacturing industry. As much as having a job is important for the workers, industry can't function without the required workforce. We, at Vardhman, always emphasise on a long-term approach and believe that it is the employees who are the harbinger of success. We continuously invest on up-skilling our employees through means of trainings - both technical and soft.
Additionally, we all are interconnected economically. Even B2B businesses are dependent on consumer's consumption. If we see the bigger picture, the employees are in a way the customers, and by reducing their income, the industry will reduce the chances of a speedy recovery from the ongoing economic dip.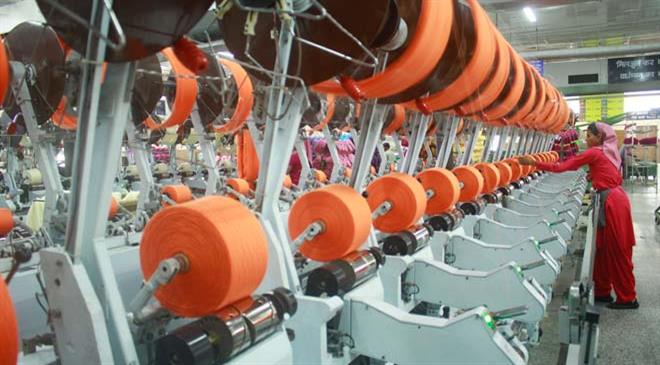 How can textile and apparel companies better manage their workforce and supply chain amid current situations?
For managing workforce, there's primarily one key - mutual growth and inclusive management. Employees aligned with organisational values are the most important resource. In current times, when technological advancements are quickly transforming the way we operate, organisations should empower their employees with a stronger and relevant skill set. Be it the Covid scenario or any other challenge, it is crucial to build the right team.?
If we talk particularly about current times, clearly virtual or digital has replaced the physical. Webinars and communication without a meeting have become the norm. It is mandatory to absorb this change and prepare your employees for the same. Supply chain too is managed by people, and hence to manage it efficiently, managing the human resource is important.
How have consumer preferences changed post lockdown?
Before the pandemic hit the world, textile industry was already shifting to becoming greener and reducing the carbon footprint. More organic and sustainable solutions, functional fabrics etc were and still are at the centre of endeavours.
With the pandemic and subsequent lockdown, a new term that grabbed the attention was 'defensive textile', with reference to fabrics with anti-microbial properties. Masks and PPEs were manufactured in massive numbers owing to the soaring demand. Another shift that the textile industry witnessed was the demand for comfortable workwear for work from home setting.?
Considering the purchase pattern, goods have started moving and people are once again purchasing for more than the bare essentials, with an inclination towards online shopping.
Based on consumer preferences, how are businesses going to get altered? What role will technology have in it?
The first change in terms of technology that we can think of, in light of the pandemic, is meetings being conducted virtually. Lack of physical proximity has altered life in ways we cannot count. From communicating and presenting the products to the customers, to connecting with the technology partners, digital mode is everywhere.?
Alongside, technology also has to serve its primary purpose i.e, innovation and development. The demand for personal protective products is at an all time high. In addition to medical usage, there is a preference for apparels with a protective layer. Textile manufacturers are thinking of products/solutions that combine fashion, comfort, and protection, all in one.