Next step is integrating RotaSpray GmbH into Weko holding group
Since 1953, Weko has been developing and producing non-contact application systems for product optimisation and surface finishing with different types of fluids and powdery substances. Jayanta Sanyal, Head of Technical Sales and Processes, Weko, speaks about its range of textile products and their applications, the key differentiating factors between Weko and other manufacturers, and the products line up for DTG Online Expo 2021.
What are the major products of Weko for the textile industry and what are their applications like?
Since 1953 Weko has been developing and producing non-contact application systems for product optimisation and surface finishing with different types of fluids and powdery substances. In textile industry our focus is on the Weko-Fluid-Application (WFA) systems for functional finishing, dyeing and moisture management. This rotary spray technology invented by Weko enables the lowest possible, exact and replicable use of the respective spray liquid. This solution gives our customers a more environmentally friendly industrial production, which is an absolute must today.
Textile industry is very large and diverse. Not only there are fashionable garments and denim, there is also workwear, home textiles, terry towels and the big segment of technical textiles. Therefore, Weko offers different types of rotor carriers with diverse options to better meet the individual demands like Weko-Sigma, Weko-ProTec or Weko-Neo. Additionally, the users can choose the right supply unit for the rotor carrier from our portfolio with the help of our sales team.
Weko took over RotaSpray GmbH from Germany – also a specialist in yarn and fabric dyeing or finishing. Their RotoDyer and RotoDyer-Twin solutions are market proven and have some additional textile specific functions. This acquisition improves our know-how and strengthens our position to change the textile industry in a more sustainable one.?
What differentiates your textile products from other manufacturers?
In conventional textile processing, liquid is applied on textile material by padding method where the material is in contact with the liquid. This contaminates the liquid and stresses the material by heavy squeezing. Also the pick-up is very high and single side use is impossible. Our technology is non-contact application of liquid. The liquid stays clean and lot change is fast. The application amount can be set easily, but very precisely in 0,1ml/m2 steps and is kept constant over the full width. Also, Weko units can work in wide viscosity range from 1–100 mPa*s and with resins, microcapsules, binder-systems and many more. This underlines the high flexibility of our systems.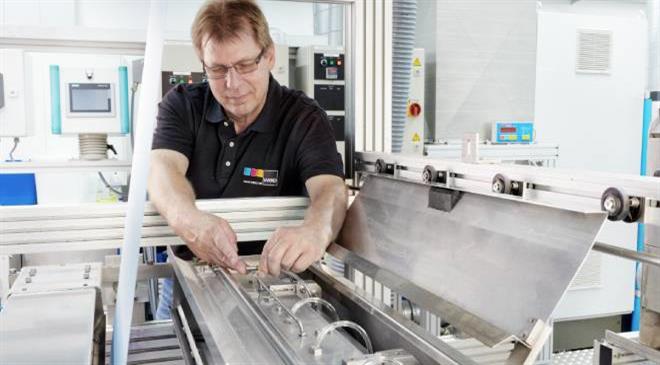 How does your non-contact rotor system for precise, metered application of liquids and chemicals to fabrics work actually? How can it be integrated in existing systems?
The user only has to set the target application amount in ml/m2 or in per cent of fabric weight (gsm) on the touch panel. That`s it. Our software does the rest. Weko needs only a correct speed signal from the machine or customer could use the Weko-DigiTacho.
In line with the actual machine speed, the Weko control calculates the needed fluid amount and drives the frequency-controlled pump. A flow meter re-checks if the pump output is in line with the target and readjusts the pump if needed. The correct amount goes to the rotor carrier. The fluid is filtered after the tank output and before coming back to the Weko tank. This gives additional security to the operator.
Our system can be easily integrated in new or existing lines. Depending on requirement, our system can be incorporated in sanforising machine, in inlet or outlet of stenters, in the inlet of festoon steamers, in pad – steam - washing range, in denim slasher / loop dyeing, in CDR etc. The system can be installed on the floor at about 1.5 metres height or over a frame above the padder.
What are your major markets application-wise and geographically?
With non-contact surface finishing Weko is serving various industries like textile, nonwovens, paper, plastic film, tissue, wood fibreboard, offset printing, gravure or flexo printing and digital printing. We also deliver our applicator in sandpaper industry and some metal industry.?
For textile, our strongest markets beside Europe is India and Turkey. For 2022 we will also focus on Pakistan and Bangladesh markets to raise our market share in these important textile countries. Both have a big need to save fresh water and decrease their energy use.
Weko has global service and sales structure offices in Germany, Brazil, UK, US and Italy as well as a professional network of distributors. Beside Germany, a manufacturing unit in Brazil serves specifically the South American market.?