We see ourselves as an improved sleep company
Canada-based Hush Blankets was founded by Lior Ohayon and Aaron Spivak to improve adult sleep. Infused with deep touch pressure technology, the Hush Weighted Blanket can be used to help solve problems like stress, anxiety, attention deficit/hyperactivity disorder (ADHD), insomnia, depression, attention deficit? disorder (ADD)? and autism. The company's recently-launched cooling blanket Hush Iced generated over CA$1.1 million on Kickstarter, the world's largest funding platform for creative projects. Fibre2Fashion spoke to co-founder Spivak about the story behind the development of weighted blankets and discussed plans to shift from a start-up to an improved sleep company in future.
How did the idea behind Hush Blankets generate? When did you start the company?
Hush Blankets officially started in late 2017, but it set off much earlier. A few years back, Lior spent some time volunteering at a camp for children with special needs. He found himself spending a lot of time in their 'stimulation room' that consisted of many sensory products. One of them was a weighted device. He always wished they had them for adults and told himself that he would pursue that idea some day. Fast forward a few years and we decided to take the leap and design the world's first sleep-inducing blanket for adults.
What was the initial seed capital investment you began with? Who are the major investors in Hush?
Hush is completely bootstrapped. Lior and I both founded other businesses in the past and were able to leverage that to help start Hush. We invested around $100,000 to get the business off the ground.
What is your USP?
Hush is unique in the growing market of weighted blankets.? Our design and quality are unmatched. From the way we secure the blanket to the way we stitch and seam it, Hush is designed to be the last blanket you ever buy. We match the quality with live and knowledgeable customer service and 100-night money back guarantee. We have also recently launched the first ever cooling blanket for those hot sleepers that successfully generated over CA$1.1 million on Kickstarter.
What is the weight of Hush Blankets compared to normal ones? How did you measure the quality of sleep with hush blankets?
We have weights from 5 lbs to 25 lbs. We have sizes from kids, twins, teens, queens and kings. It depends what you are looking for, but we feel we have a blanket for everyone and every situation.?
Customer feedback has been our biggest pillar in adjusting our design and offering continued value to our customers. With thousands of reviews and quality feedback, we are confident our blanket is of the quality standard we claim.?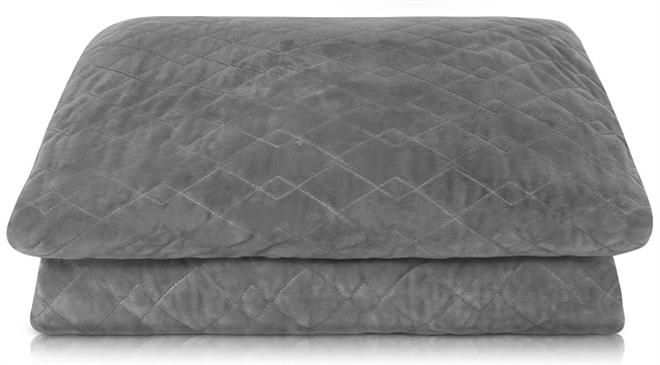 What is the material used in the blankets?
We use a combination of cotton, polyester, bamboo and micro-fibre.
Tell us about the Hush Iced blanket introduced recently.
This blanket was created by the customer. Last year we had tremendous demand from our clients to come up with a cooling solution. We didn't just want to make a cover out of bamboo (uncomfortable) and say it is now a cooling option. So, we set out and designed a one of a kind fabric that stays true to being the coldest blanket in your house.
How many Hush Blankets have you sold? What is your retail presence?
We have sold over 10,000 blankets to date in our first 15 months. We are starting to get into some local retailers; we have presence in about 15 local retail shops in Canada.
Which geographies are your main markets? Which new ones do you plan to explore?
We have currently taken over the Canadian market. Moving forward, we want to expand in the United States and explore the possibility of taking up some of the market share in Europe.
What are the challenges that the brand faces? How do you plan to overcome them?
There are many challenges we face daily. Our biggest was keeping up with demand. We had a long waiting time for customers as we could not get inventory as fast as we had anticipated. Another challenge-but also a goal-is to assert brand dominance in the space. With growing popularity of the product, we want to ensure we separate ourselves in the space.
What next is in the pipeline?
Although Hush started as a blanket company, we see ourselves as an improved sleep company-finding new ways to solve common sleep problems and offer people comfortable solutions for a better sleep. We have a few new products in the pipeline that we are excited for our customers to try out! (HO)