Well well, it's been a while!  Since we last spoke, I turned 28 years old.  I took the day off an enjoyed a 75 minute yoga class, shopping at Lululemon (thanks, Mom!) and a lovely dinner with the family, complete with cake at home afterward.  No 28 things post this year, but last year's was one of my favorite posts I've ever written, so check it out.
My brother loves beer.  And ruining nice photos.
Some eats from the past few weeks…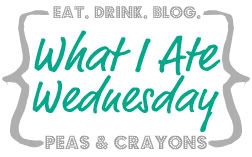 My favorite people from Chobani sent me a box of their new products that arrived just a few days before my birthday, and it was an unexpected (and thoroughly welcome!) treat!
Somehow Chobani makes me love flavors that I never liked in the past.  Even the key lime is amazing – I tweeted about how good it was with oats and blueberries – and I usually HATE lime-flavored things.  Don't adulterate my Captain & Diet with that green citrus, please.
This morning I mixed one of the honey + ginger flavored "bite"s with some oats, chia, flax, cinnamon, and a HUGE white peach that had to be almost to two cups' worth.
However, my new favorite has to be the mint chocolate chip!  It was a major flashback to my childhood ice cream days, especially when frozen for 30 minutes then mixed with a crumbled zucchini brownie (recipe can be found on the UPMC MyHealth Matters site).  Lightened up Blizzard, anyone?
Otherwise, I've been feeling pretty uninspired in the kitchen.  Last night I "made" enchiladas thanks to Trader Joe's.
I'm still obsessed with most of Jess's posts and recipes, and used her whole wheat pizza crust and skillet method last week.
Otherwise, I'm not at all ready for summer end.  I'm perfectly happy with iced coffee, long walks with Lexi on my lunch break, and hot yoga when they don't even need to turn on the heat and humidity in the studio.
And THIS is a major treat for after a long summer day in Pittsburgh.
If coconut water doesn't cut it, there's always frozen yogurt.  Last night our local store had both Salted Caramel Corn and Angel Food Cake flavors.  Delicious, but the caramel corn flavor was so strong that it put a damper on my topping options.
PS – I'm not happy with Feedly anymore.  It seems I have lost some of my subscriptions (WTH?!) AND they took away the search feature, which is REALLY annoying.  I know about Bloglovin' but it's not my kind of interface.  I've heard good things about The Old Reader0 and am trying out Feedspot, but it's hard now that my Google Reader data is gone.  Harumph.  Help!
PPS – I know you're all sick of hearing about Ellie, but right now they are offering pieces for $24.99 each, and you can still get my 20% (affiliate) discount if you're placing your first order.  This is the time to try them if you've been debating!
What's been going with you?  Is anyone still reading?  Fill me in!