The final stop on our Poland/Italy honeymoon trip: Rome.  Above: my favorite sight in Rome – the Trevi Fountain.
Go link up your day of eats with Jenn!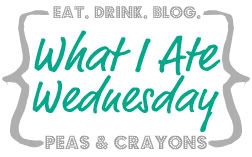 After our quick 1.5 hour train ride from Florence, we checked in to our hotel and explored the neighborhood on foot, stopping for a simple pizza dinner.
The next morning we woke up early and set out to see all the sights – we wanted to hit the main tourist attractions all in the first day, so we could spend the second full day returning to areas of the city where we wanted to spend more time.
Simple (and perfect) Italian breakfast of croissants and cappuccinos.
Lunch was in the Campo de Fiori, at an amazing grab & go pizzeria and bakery, Forno, recommended by our Rick Steves guide.  I chose a puffed pastry type pizza, stuffed with an egg and spinach filling – it was incredible. 
We walked a LOT that first day – this map of Rome shows our hotel (on the right) and the farthest point we walked, the Vatican (on the left), and our path in between.  Yes, we did a few circles that day.
All of our walking required a snack between lunch and dinner, of course.
We even found a Steelers bar in Rome – apparently a lot of Pittsburghers stop by and visit!  Don't think too many other NFL teams are so proudly represented in Rome!
Dinner was at Bibo, a restaurant we stumbled upon as we were getting hungry – we hadn't planned on this one at all.
Adam chose a meat stuffed tortellini with pancetta and mushrooms.
I had a crimini mushroom pasta in a light cheese sauce and a side of marinated eggplant.
I don't know about Adam, but I ate so much that I was barely hungry for breakfast the next morning. 
Still more of Rome to come next Wednesday!
I've only be showing the meals from our trip, but I have hundreds of pictures of the sights too.  Would you be interested in seeing those?
Other honeymoon eats: Mile High Meals, Polish Wedding, home cooking in Poland, Bologna, Venice, Breakfast in Mira, Florence day 1, Florence day 2.
Have a great Wednesday!