WIAW time, brought you by the lovely Jenn!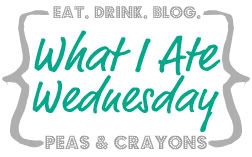 We started our last full day in Rome with Sunday services at the Basilica di Santa Maria Maggiore, my favorite church in Rome (and that's saying a LOT).
It was built in 432 – it's almost too much to even fathom.  It has the most beautiful golden mosaics and a relic from the crib of the nativity of Jesus.  If you have the time, click over to the Wiki article to read more about it – it's an incredible church!
Just in case you were wondering, the traditional Italian Mass lasted over 90 minutes – which had us starving!  Another Italian breakfast (at almost 1 pm)…
We spent the rest of the day returning to our favorite places in the city – especially the Piazza Navona, which was near the Steeler bar I mentioned in my last post.  We planned stop by to support our team – and it was playing at 7pm Rome time (1pm in Pittsburgh).
Our late breakfast led to a late lunch, around 4pm.  Typically eating near the tourist attractions means overpriced, lower quality food, but we really lucked out with this pizzeria 0n the edge of the Piazza Navona.  I ordered the best bruchetta of my life – and my hubby ordered a pizza verdura (so we could share! ;)).
We spent the rest of the evening strolling through the shopping districts, picking up souvenirs for our families and a purse for me and watch for Adam.
Just a hunch, but I bet Katie would have LOVED this shop.
I was obsessed with all of the foods in the markets, but I was worried about my suitcase being too heavy for the flight home – otherwise I would have bought so much more!
With our late lunch and the fact that it was the last night of our trip, we weren't in the mood for another heavy dinner.  We did, however, make room for gelato!
A combination of raspberry and white chocolate that we shared.  So delicious!
And then we had to try the banana nutella crepe – they were made to order at the Gelateria.  Warm, melty nutella, stuffed into a buttery envelope – messy(!) and delicious.
We wandered past the Pantheon at night one last time as we enjoyed our treats…
We got back to our hotel around 11am and had to wake up at 3am to leave for the airport for our flight home.  It was bittersweet to leave and finish our honeymoon, but we were excited to get home and see our families after nearly 2 weeks in Europe. 
The trip had a lot of challenges and pretty much nothing went smoothly or as planned, but we got through it together.
Regular WIAW returning next week, but until then you can check out my other honeymoon food recaps…
Other honeymoon eats: Mile High Meals, Polish Wedding, home cooking in Poland, Bologna, Venice, Breakfast in Mira, Florence day 1, Florence day 2, Rome part 1.