Good morning!   2 posts in 2 days… maybe I'll get back into this blogging routine!
Daily recap of our eats being hosted over @ Peas and Crayons!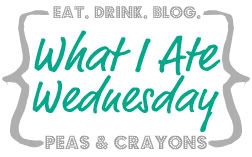 Breakfast:
I bought some whole wheat english muffins because toast sounded perfect on these cool mornings with warm afternoons – not quite overnight oat weather yet!
Whole wheat english muffin with almond butter, apple slices, and cinnamon.  Soft, crunchy, and warm all at the same time.
Lunch: Part 1, BR (before run):
Leftover veggie lasagna – love the roasted red peppers in this dish!
Part 2, AR (after run):
Cottage cheese whipped with some frozen strawberries and a little stevia + almond milk.  Like strawberry soft serve!
Unpictured snacks: popcorn (Boom Chica Pop, how good is that stuff?!) and handfuls of cereal
Dinner: I planned on going to hot yoga at 7, so I reheated a veggie burger (recipe coming this week!) for an early meal, and crumbled it with a Laughing Cow wedge and some steamed spinach.  I also snacked on a few Wheat Thins with almond butter closer to class time.
Workout:  75 minutes of hot yoga – we did pigeon pose at the beginning of class!  It was so packed in the studio, super sweaty, and exactly what I needed last night.
PM snack: Another Magic Bullet treat – frozen banana "soft serve" with half a scoop of vanilla protein powder and sprinkles
Yes, I clean the Magic Bullet cups multiple times a day.
Are you craving warm or cold foods these days?  I thought I didn't want cold oatmeal in the morning but ended up with two frozen snacks.  Summer better just get here already.