Thanks to the lovely Jenn @ Peas and Crayons for hosting our weekly WIAW party!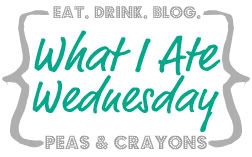 This week's edition on L&LTE is from my husband's cousin's wedding in Poland.  His family warned me that there would be lots of food (and that it would last until 4 in the  morning) – but I had no idea it would be so elaborate!
There are even several courses I don't have pictures of – including a baked ham and the actual wedding cake – but I'll try to piece it together as much as possible.
Now I couldn't communicate well enough to learn the real ingredients or traditional names for a lot of these dishes – maybe the ladies at Lofty Appetite or Pawsitive Life can help me out?
I know that a lot of the food is traditional Polish cuisine, but I'm not sure how much of it was planned by the caterer (at the hotel) and how much is really typical of a wedding in Poland.
When we were seated (one long table, about 60 guests total), a soup dish with noodles and vegetables was awaiting broth to be poured on top (it ended up being chicken broth, which I figured out after one taste).  Also on the table were 1 bottle of vodka between two guests, large centerpieces with flowers and whole fruit, and several cold salads.
One of my favorite salad dishes: a cold, sweet rice with raisins and a creamy dressing.
French fries were only one of the potato options – there were also boiled potatoes (seen in the back left), mashed potatoes, and potato salad.  My main course consisted mainly of potatoes, and the veggies seen here.  The silver platter had chicken prepared 4 different ways.
Another main dish option: pork with some kind of tomato sauce.
One thing that surprised me in Poland was that they drink juice with nearly every meal – orange, grape, apple – always juice.  You can also see the shot glasses (refilled with vodka every 5 minutes or so) in this photo.  The juice definitely came in handy as a chaser for those who were doing the shots (which followed a song called "Sto lat", toasting the couple to 100 years of happiness).
The groom (my husband's cousin) is a culinary student and carved this watermelon for the head table.  Isn't it beautiful?
After the main dinner course there was about an hour of dancing, and then the first dessert course was served!  I got to try Adam's choice and my own, of course.  These cakes are similar to deserts I've had at my mother in law's home – they are always delicate and filled with multiple layers of fillings and flavors. 
Adam's was a dulce-de-leche type flavor, with some coffee flavor:
I chose a chocolate/chocolate mousse piece.
After more dancing and more shots, more food was served!
These were cold (I think cooked) fishes, preserved in a gelatin of some sort.  Adam said they have something similar on Christmas Eve.  I took one bite but they tasted a bit too fishy for me.
More dancing, more dessert!  Ice cream in waffle cone bowls.
After the ice cream and more dancing/shots?
Meat.
Raw meat.
Seriously.  Ground, raw, meat.  With onions and relish, of course.
A fried (but cold) fish, with a sweet and sour type sauce.  Again, I tried a bite before deciding it wasn't for me.
Something I felt comfortable eating: a salad with feta, chickpeas, tomatoes, and olives!  It was heavily dressed and only iceberg lettuce, but it was meat-free!
Another salad that was similar to coleslaw, chopped in to tiny pieces with peppers, carrots, and onions:
After more dancing (and toasts/shots), there was some kind of pork (on the bone) served.  This was as close as I got to it.
After this, more dancing, the official wedding cake was cut, and then an entire ham was sliced and served as well.
More dancing…
The final course consisted of borscht (which I've had before and like), but I could barely take two sips after all of the food that night.  Of course, more meat was served too – very rare, large cuts of beef – hope you don't mind the lack of a photo.
All in all, the wedding was a great experience – even though many of the courses weren't vegetarian friendly, you can see I still had a LOT to choose from.  There were lots of games played at the wedding too, and different themed dances than we do here in the US.  It was a total blast and I'm so glad I got to experience it with my husband and his family.
Have you ever been to a wedding that was very different than what you're used to?