Another Wednesday, another party with Jenn!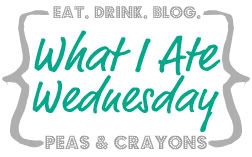 Ahh, Firenze.  Sorry if you're sick of my honeymoon recap posts.  I'm not.  I have 2-3 more to do (Rome).  You can read the others here: Mile High Meals, Polish Wedding, home cooking in Poland, Bologna, Venice, Breakfast in Mira. 
Our second (full) day in Florence began as any morning in Italy should – with freshly baked pastries and cappuccino.
I can't believe my husband got into coffee during our trip.  There's nothing like it here.
For lunch, we ventured about 30 minutes from our hotel in search of Il Latini, a family owned restaurant that was recommended both by our hotel owner and my brother, who went last summer.
In all of the travel books, they tell you to "eat where the locals eat".  This was definitely that kind of place.  They even dry their own proscuitto, which is supposed to be incredible.
Can you spot the meat?  No, not my lovely husband!
The owner himself was our server, and had to borrow a worn menu from the neighboring table for us to look at as he served us half a loaf of fresh, crusty bread and told us about the house wine, made at a  local vineyard just for them.
As he explained in broken English – "drink as much wine as you like and that's what we'll charge you".  Okay! 
It was one of the shortest menus we saw the entire trip – a few choices for each of the salad, primi, segundi, and pasta courses.  I started with the minestrone – better than any I've ever had in the states.
It might have been beef or chicken broth – being a smaller local restaurant, the communication was a bit of a struggle – but the soup was so delicious and full of veggies that I didn't even care.
Adam ordered TWO courses of pastas – yep, that's the man I married.  Starting with a classic bolognese.
Of course I didn't taste it, but it looked delicious.  For our second course, we both ordered the fresh spinach ravioli, recommended by our waiter and seen at a LOT of neighboring tables.
I can't even put in to words how fresh and light this tomato sauce tasted.  It was the perfect consistency, and balanced with the delicate homemade pasta that was neither under or overstuffed, I was in carb heaven.
If you want really good, classic, Tuscan food, Il Latini is the place to go in Florence!
We had a 5pm train to catch to Rome, but we grabbed one more caffeinated beverage to power us through the adventure of returning our rental car and finding the train station – double espresso for me and chocolate cappuccino for Adam.
We had to say "arrivederci" to Florence and their beautiful handmade leather goods.  No, Louis isn't made in Florence, but everything is more beautiful there.
Next stop – Roma!
If you've been to Europe, what's your favorite city?  If not, where would you want to visit first?
I've been to France, Spain, Poland, and now Italy twice, and Florence currently tops my list!  I'd like to see London or the Greek islands next!