It's the best day of the week!  Thanks Jenn!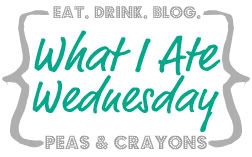 Ahh, Venezia.  My love. 
Our first full day in Italy was spent in Venice, the epitome of romantic Italian charm.  We parked, took the people mover over to the island, and just explored on foot all day long.
From what I've read, it's best to just get lost in Venice – it's an island, so you'll eventually find your way.
We wondered straight in to a seafood market, already bustling at 10 AM.
It didn't smell fishy at all – a sign that everything was incredibly fresh.
I love that merchants have "shops" right on their boats on the canal.  There was fresh fruit everywhere – but I would have wanted to wash it so we didn't grab any.
Midmorning fuel – a chocolate covered macaroon for me and strawberry cheesecake treat for the hubby.  His was frozen, which we didn't expect – we thought it would be most custard-like.
We found an adorable cafe and wine bar for lunch: Teamo.
There were hundreds of cafes with paninis, pizzas, and other finger food type lunches. 
It was a little early for me to have wine (around noon), but we still had some fancy "Coca Light".
I got a wrap with eggplant, roasted veggies, strong cheese and arugula.  I loved that the wrap was thin and soft, even after it was warmed on the panini press.  It was similar to a super thin pizza crust.
Gelato of the day: tripe chocolate for me and panna cotta for the hubby.  His tasted like pure cake batter – definitely the best that either of us had the entire trip.
To balance out the gluttony, we had a light mid-afternoon snack.  I got the mixed berries and Adam chose the watermelon.  So fresh, light, and flavorful.
Dinner found us at a waterside restaurant.  We only had one day in Venice and didn't want to spend a few hours on a gondola, but we still got to listen as they went by.  All of the gondoleirs had incredible voices.  So romantic.  We almost had the restaurant to ourselves since most Italians eat late (8-9pm), but we had to get on the road to check in to our next hotel.
The hubby chose a primi that we both went gaga over: gorgonzola ravioli.
The pasta had the most amazing, thin, melt in your mouth quality – topped with a divine cheese sauce.
For my main dish (segundi) I had my favorite fish: sea bass, in a light lemon butter sauce.
The simplicity of the presentation complemented the decadent flavors in both dishes.
We headed out of Venice right after sunset to check in to our amazing 5 star hotel, Villa Franceschi.  We stay in some budget hotels, but this was definitely our best splurging decision.
I mentioned that it was our honeymoon when I made the reservation, and the concierge had champagne and fresh fruit sent to our room.
See you over the next few Wednesdays for food recaps from Bologna, Florence, and Rome!
What's the nicest hotel you've ever stayed in?