Welcome to another WIAW – Honeymoon edition!
In case you missed it, I married a wonderful man who's 100% Polish (but born in the US).  His parents visit almost once a year but he hasn't been to Poland to see his relatives since he was about 14, so we decided to make the trip for his cousin's wedding (a month after ours).  We spent half the trip in Poznan, Poland visiting his family, then traveled to Italy on our own.
Last week's WIAW post was from Venice – just because I couldn't wait any longer – and this post back tracks to our last morning in Poland / first night in Italy.
Thanks again to the lovely Jenn for hosting the weekly party!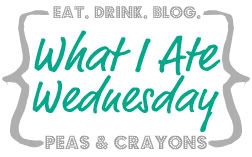 We were supposed to spend about a week in Poland but we never set a date to leave for Italy – for this reason, we didn't book tickets in advance and ended up having to drive about 3 hours to get a flight into Bologna, Italy instead of going directly to Venice (our first destination).
The husband and his uncle made the travel plans for us at the airport (and I didn't understand a word of the Polish conversation).
We got the airport in Wroclaw, Poland about 4 hours before our flight so we ate brunch in the airport's only restaurant.
I ordered nalesniki, a stuffed Polish pancake similar to a blintz or a crepe.  They were offered filled with cheese or fruit – I naturally had to try one of each!
When we got off the plane from Poland, we expected to land in Bologna.  Our tickets said Forli, which I assumed was the name of the airport.  Unfortunately our flight was to Forli, which is a small town outside of Bologna (about a 40 minute drive).  The "airport" was literally an old warehouse with a vending machine and three rental car desks.  It wouldn't have been a big deal, but we spent most of the day traveling, I was starving (my emergency Luna bars only went so far), and our rental car reservation was for Bologna.
After about an hour of negotiation with the rental car people, they decided they'd have a car available for us in about an hour.  We ended up going to get dinner at a tiny little neighborhood pizza place.  It was the first time we needed to speak Italian, and since we weren't in a big tourist area, they spoke ZERO English.
Using my handy travel guide, I knew a verdura (vegetable) pizza would be a safe bet.  The hubby got his half with proscuitto and salami.
We ordered wine and that was served by the liter.
After the day of travel we had, that wasn't a problem.
I can't bare to tell you how much of that pizza was remaining after only about 10 minutes (it wasn't much).  It took a few of the restaurant employees to effectively communicate with us, between my Spanish based Italian and their limited English, but we somehow got across that it was our honeymoon and we were celebrating.
Dessert was easier to order – we went over to the fancy refrigerated case and pointed!
I got a slice of a meringue and nut cake and Adam selected a traditional cannoli.  I must admit I was envious after tasting both!
We told the waitress how molto bene everything was, and she sent out the chef, who brought us an after dinner drink!
I've had limoncello in the past, but the second one was banana flavored – both incredibly strong liquors and very sweet (my belly wasn't happy about them later, and I barely drank half of one!).
All in all, our first Italian meal was wonderful although not what we had planned.  I thought we'd be dining canal side in Venice, but instead we were in a tiny town we had never planned to travel to.  The service was great, the people incredibly friendly, and the food delicious.
We were exhausted when we finally had a rental car and made it to Bologna.  We used the GPS (in English, thankfully) to find the closest 3 star hotel.  It was nothing worth mentioning, but we had our first Italian buffet breakfast the next morning.
Pastries, coffee, juice, and lots of bread.  I was thrilled to see yogurt after having nothing but cheese for protein in Poland, and this full fat yogurt tasted amazing.
See you the next few weeks for recaps from Florence and Rome!
Thanks for all of the feedback on the baked oatmeal – I'm shocked so many oat lovers haven't given it a shot yet!  I promise, you'll like it!