Attn Pittsburgh bloggers (and readers!): Join us on Saturday for yoga and/or lunch!  Check out Alex's blog for more details!
Hello there – long time, no chat.  :)
I haven't been feeling the blogging thing recently, and it's for a bunch of different reasons.  1, I haven't been reading blogs as much – the repetitive nature of some topics and 10 of the same sponsored posts in one day just aren't holding my interest as a reader, and I don't want to fall in to that mentality of blogging for the sake of blogging.
When I started Live and Love to Eat, I wanted it to be a place to share healthy recipes that I've made or modified.  Now that I am responsible for posting recipes on my employer's blog, I'm not creating many extra recipes.  Most of the time I'm inspired by other peoples' recipes or simply from pins on Pinterest when I'm cooking at home, plus we've been busy with family events and going out and I just haven't been in the kitchen that much.  I never intended for the to be an about-my-life type blog, but that's where it was (is?) headed.
Most of the time it doesn't even cross my mind anymore to take a photo of something before I eat it.  Life has been good, food has been great, and I've just been living and eating without giving it much thought.
There are days that I do miss it, though, so today I'll share a bit of what I've been up to!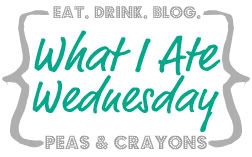 What I've been… eating
:
Lemon ricotta pancakes with blueberry syrup.  Adapted from The Noble Pig (I used whole wheat pastry flour and added some vanilla)  - go make these NOW.
Cauliflower crust veggie pizza with grilled peppers, onions, and tempeh.
Met friends for dinner at Burgatory, which I mentioned before – I had the same amazing veggie burger, but this time I didn't have the regret of not ordering a milkshake:
S'Mores shake, complete with perfectly torched marshmallow.  You can see my friend's salted caramel pretzel flavor in the background.   They also offer boozy shakes in incredible flavor combos.  Come to Pittsburgh and I'll meet you there.
Of course – frozen yogurt.  We have about 5 options within a 5 mile radius of our house – could be dangerous!  New strategy – 75% low cal original tart, 25% sugary cake batter/vanilla/some other sweet flavor, 150% toppings – makes me feel marginally less guilty.
(What) I've been exercising:
Since the weather has been beautiful, Lexi and I walk/run between 1.5 – 3 miles daily on my lunch break.  Additionally, I've been trying to keep up with spin class at least twice a week.
Farthest distance I've ever done in a spin class.  I also spent the cash to get a 3 month summer pass to a hot yoga studio, and make an effort to attend 3 classes a week.
What I've been enjoying (besides eating and exercising):
Time with my family, especially at my parents' new lake house.  I have my mother's birthday, my parents' anniversary, and my dad's birthday in the weeks between Mother's Day and Father's Day, so we've had a lot of nice family time recently.  My cousin and my brother in law both graduated high school, too, so we have even more parties on the way. PS – Lexi and Bella love the lake house, too.
Baseball games!  I've been a huge Pirate fan since I was a little kid (even won a contest about being a "Real Fan" a few years back) and they are on fire this year.  Adam is not into baseball, but I did drag him to a game a few weeks ago.
Let's go Bucs!
Also still obsessed with Mad Men – only one more episode left this season, then I'll need a new show to watch.  Any suggestions?
Also not sold on Feedly or Bloglovin' – how are you dealing with Google Reader's imminent end?
xox