Another WIAW – Honeymoon edition.  I love reliving our incredible Italian meals!  Thanks for throwing our party, Jenn!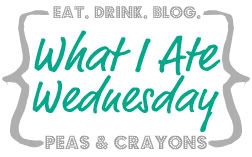 We stayed at the amazing 5-star Villa Franceschi outside of Venice and enjoyed our best Italian breakfast – most are just pastries, cheeses, juice, and coffee, but this hotel went all out.  You were seated at a beautiful table with delicate china and could order from the menu or use the buffet. 
Sorry for the bad lighting, but it was just natural sunlight coming in the beautiful stained glass windows.
4 fresh squeezed juices to choose from.
One table of pastries (there were even more!).
The creamiest yogurt I've ever tasted – I had the banana flavor and Adam tried the peach; both were incredible!
The best cappuccino I had all trip!  It was great to not think about calories at all and just enjoy ever drop of the steamed whole milk (and I had two).
I did take a photo of all the interesting sweeteners – some are "low calorie" as opposed to completely calorie free.
My plate: cheesy eggs, more cheese on the side (incredible sharp, soft cheeses), and apple tart.  I also had the yogurt (above) with fresh granola.
The hubby's plate: cheese, meat, eggs with cheese, two types of freshly baked bread, and more cheese.
We loved this hotel and hope to return some day!  This is outside the building where breakfast was served.  After breakfast we hopped in our rental car and headed for Florence!
Our first dinner in Florence might have been my favorite meal of the trip.  More on that next Wednesday.
Other honeymoon posts: Mile High Meals, Polish Wedding, home cooking in Poland, Bologna, and Venice.
What are your Thanksgiving cooking plans?
I'm making a lightened up carrot souffle, lightened up pumpkin cheesecake (still on the hunt for an almond flour or date based pie crust recipe!), and vegetarian stuffing.