Another Wednesday, another party with Jenn!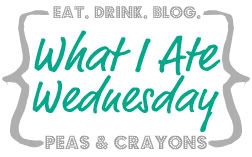 Last week I left off with the five star breakfast we had outside of Venice (in small town called Mira).  Although we enjoyed every single amenity that the 5 star hotel offered, we chose to stay right in the center of the city of Florence – about a 2 minute walk from the famous "Duomo" cathedral, at the Hotel Dali. 
Florence was my city of the trip – the art, the shopping (from boutiques to street vendors) and of course, the food.
It was about a 2 hour drive and it took us forever to find our hotel – since it was in the center of the city (a "no driving" zone).  Once we finally got settled and took care of parking the car, the hotel's owner recommended I Ghibellini, a restaurant that was just down the street.
It was a beautiful early fall evening, so we dined al fresco.  The house wine was my beverage of choice, of course.
We started with some amazing homemade bread – like herbed pizza dough from a brick oven, and I ordered a panzanella salad to start.
Adam had a really interesting salad of shaved zucchini, homemade mozzerella, and an herbed citrus dressing.  I don't quite think he knew what he was ordering, but I really enjoyed it!
For my entree, I ordered a primo and a vegetable side: sauteed, very garlic-y spinach…
And truffle pasta.  Probably the best pasta I ate the entire trip – perfectly fresh, with a flavor of olive oil balancing the strong, earthy truffles.  Simple and perfect.   
Adam had a "meat and potatoes" kind of meal – the restaurant's signature pork chop and roasted potatoes.
We spent the rest of our evening Skyping with family from an internet cafe, browsing the busy streets and shops, people watching, and enjoying gelato for dessert.  Mint chocolate for me and panna cotta for my husband.  The panna cotta was always the best, but I wanted to try different flavors.
 I like re-capping our honeymoon this way – it's great to relive each day (and each meal!).
Previous honeymoon WIAWs: Mile High Meals, Polish Wedding, home cooking in Poland, Bologna, Venice, Breakfast in Mira.  Still to come: Poznan (Poland), Florence (Day 2), and Rome.